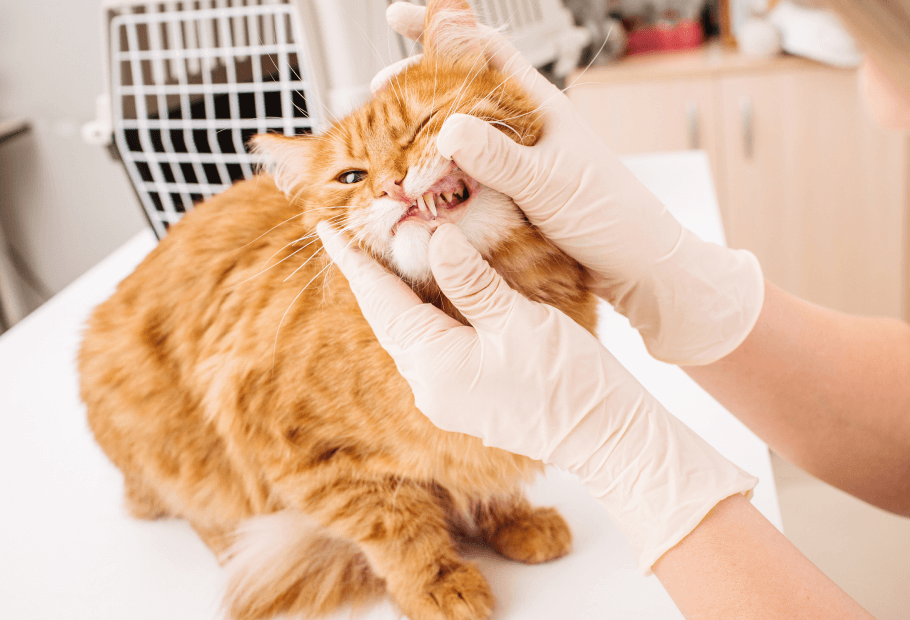 Dental Care
We've got your pet's mouth covered!
At Alto Tiburon Veterinary Hospital, we take great pride in providing the highest standard of care to your pet at all stages of life. One of the many services we're able to offer is pet dental care. If your pet is over 3, and hasn't had a dental cleaning and exam within the past year, we highly recommend that you schedule one at your earliest convenience.
Many pet owners don't realize it, but dental disease is the most common disease in dogs and cats. Unfortunately, when your pet has poor oral health, this could lead to other issues later on. We strongly believe in dental care for pets because we've seen firsthand how terrible it can be for dogs and cats when they don't get it. Dental disease can significantly impact a pet's quality of life at advanced stages, making eating difficult due to mouth pain. Plus, bacteria from the mouth can enter the bloodstream and cause heart, liver, and kidney complications. Keeping up with the cleanliness of your pet's mouth and their overall dental health can prevent years of discomfort, disease, and lost teeth.
Our animal hospital offers a wide range of dental services to suit your pet's needs, including routine dental exams and cleanings to protect your pet's oral health. In our routine dental cleaning, we focus on overall oral hygiene, which includes offering full mouth dental cleaning, polishing of the teeth, and removal of plaque, tartar & stains.
At Alto Tiburon Veterinary Hospital, we perform non-anesthetic dentistry (NAD), where a specialist comes into the office to perform these for our clients. Non-anesthetic dentistry may appeal to pet owners who are nervous about having their dog anesthetized or own elderly or large breed pets. Looking for more info? Give us a call at (415) 383-7700.
An Update To Our Pricing
Our team has received a lot of feedback concerning the price of our dental care procedures, and after careful consideration, we have adjusted our services in order to offer a lower base price for dental cleanings.
To make this procedure more accessible and lower costs for you, we no longer include extractions, radiographs, ECG, or a full blood panel prior to the cleaning- unless approved by the owner for an additional cost. These elements of our services can be some of the most costly for the pet owner. In order to reduce additional costs, we also have adjusted our pre-op medication protocol and will send owners home with medications to be used the night before the procedure.

By forgoing these services, you benefit from significant cost savings, but it also means that we won't have a complete picture of the pet's health before undergoing the procedure. Because of this, performing a standard cleaning will be at the doctor's discretion if the pet is a good candidate for the routine dental based on the annual exam. In addition to our routine exams and cleanings, we offer extraction services, x-rays, tooth fillings, and minor oral surgery for an additional cost.
If you're interested in finding out more about dental cleanings or our other dental services, contact us today at (415) 383-7700!